"Even the gorgeous royal chariots wear out; and indeed this body too wears out. But the teaching of goodness does not age; and so Goodness makes that known to the good ones."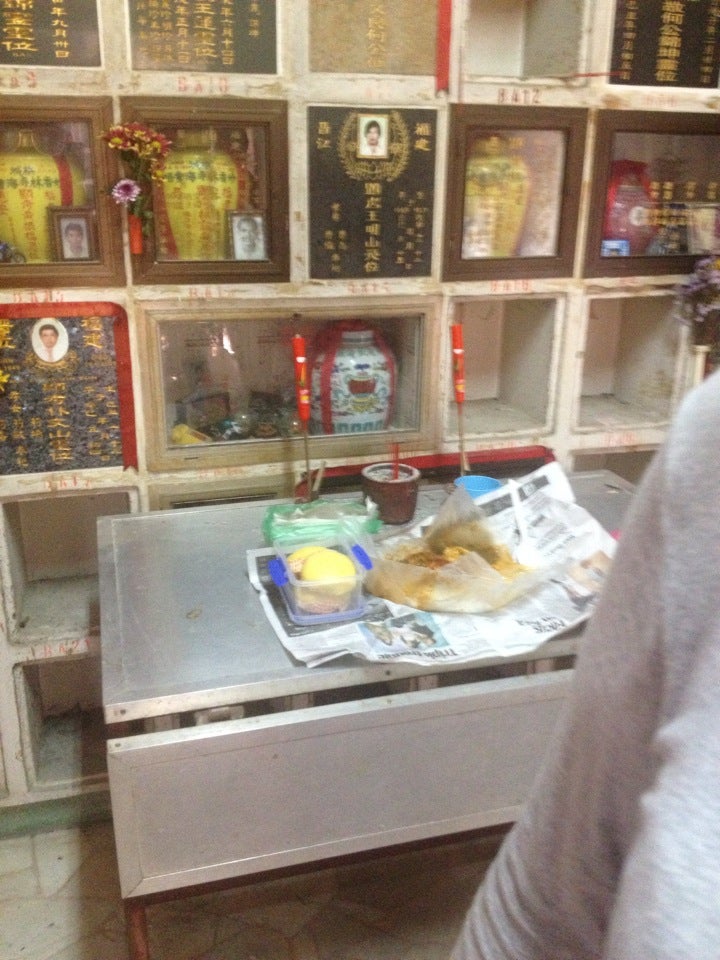 Beow Heong Lim Temple (妙香林寺) at 503 Hill Railway Rd in Penang will be the final resting place for myself and K.K.
Allow me to explain why I plan to be cremated, shoved in a yellow jar with red writing and shipped half-way around the world when my time is up... but first, do you know what a
columbarium
is? Simply explained, it's a series of cubicles measuring approximately one square foot stacked together to form walls where the remains of deceased persons are entombed. In the photo on the right, you'll see someone standing before a metal rolling table with candles, incense, (vegetarian) food and tea praying for a loved one. This is typical for how one would pray for a loved one at Cheng Meng or at the 100th day after death or any other special occasion.
Some columbarium cubes (such as the ones displayed in the photo on the right) have an etched glass covering so you can see the vase holding the cremated remains of the deceased, while more commonly, they are granite or marble tombstone enclosures -- not unlike a headstone in a western cemetery. The ones with glass are kind of cool, as you can see miniature objects left for the deceased to take with them in the afterlife, some items I have seen have been packets of cigarettes, motorcycles, cars, homes, bottles of alcohol and just about anything else you can imagine!
(note: Columbariums exist in the western world as well! See this example in San Francisco,
California. Also, some columbariums aren't as humble, such as this example with gold Buddhas and laser lights, which is planned very close to Beow Heong Lim Temple)
Beow Heong Lim Temple has a sizeable, yet humble columbarium and it is on the beautiful tropical island of Penang, Malaysia in the loving shadow of
Kek Lok Si Temple (極樂寺)
, the Goddess of Mercy. It is also very cost-effective for those that wish a permanent place of residence in the afterlife, on average it costs about $2.5k USD per cube on a exterior wall (i.e. a view of outside)
During
Cheng Meng, "Grave Cleaning Day" or "All Soul's Day", each 4th of April
Beow Heong Lim Temple becomes a flurry of activity with all sorts of chanting, praying and burning of incense and
joss papers
. [Joss paper (金紙) is also known as ghost money and are paper-crafts made into burnt offerings, common in various Asian religious practices including the veneration of the deceased on holidays and special occasions. Joss paper, as well as other papiér-mâché effigies, are also burned in various Asian funerals, to ensure that the spirit of the deceased has lots of good things in the afterlife.]
Beow Heong Lim Temple is where K.K.'s mother, grandmother and two aunts remains are kept. It's the reason why we travel to Penang for Cheng Meng every April. The upper photo on the right shows the actual tombstone enclosures of K.K.'s aunt (who adopted him when his mother died 30 years ago) as well as his grandmother who passed 5 years ago. You'll notice that K.K.'s name are on both tombstone enclosures.
It's such a beautiful location and so peaceful that K.K. and I chatted for over a year about making it our permanent home when our time comes. In April 2015 we made our purchase. We have our paperwork and instructions in our safe deposit box and stipulated in our wills so that when we pass, someone will be paid to take our remains to Penang and have the monks make arrangements. Here are our final resting places:
Here are some general photos of
Beow Heong Lim Temple
on FourSquare.
Traditional Chinese Funeral Arrangements
The funeral ceremony, which traditionally lasts over 49 days, the first seven days being the most important. Prayers are said every seven days for 49 days. The number of ceremonies conducted is dependent on the financial situation of the family. The head of the family should also be present for the burial or the cremation.
I have two videos of the traditional method of placing bones and ashes into the urn. They are of K.K.'s Grandmother's ceremony:
video #1,
video #2
(note: these videos might be disturbing to sensitive individuals.)
After 100 days a final prayer ceremony is conducted.
In the Mahayana tradition of Buddhism (which most Chinese Buddhists subscribe), it is believed that between death and rebirth there is an intermediate period called "Antarabhava". This is an important period which has an influence on the form that the rebirth shall take. If the family ensures that proper assistance in the form of prayer and remembrance ceremonies are duly performed, the departed is better able to take a favourable rebirth.
Here is
more information about Chinese funeral customs
.