"Anti-stupid" pill tested on mice., thanks to
chrishansenhome
Cops Quickly Find Stolen Doughnut Truck, thanks to
chrishansenhome
Your life in a Comic with ComicLife, thanks to
quirkstreet and
kev_bot

... and be sure to add your two cents to
thornyc's entry about Jimmy Dean's Pancakes and sausage on a stick (a frighteningly real product -- see image below!)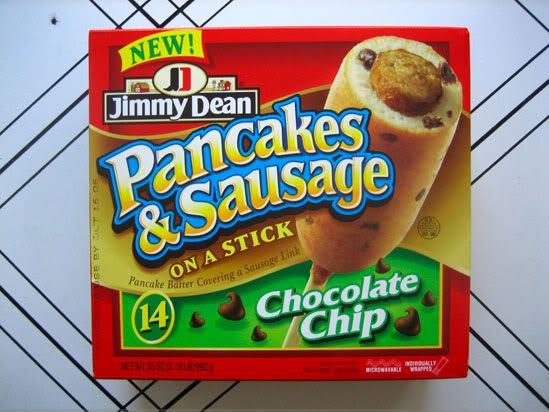 ---
I'm going camping at Bearcamp River Campground this weekend, so that means I'll be offline after 15:00 on Friday.

What?!? You didn't know I was going camping and you wanted to come along?

Well shame on you for NOT reading Where's Chaz?!! I have no pity for you. ;-)

---
I migrated/added a lot of new material (applications, text, movies, muusic and photos) to my webserver chazhome.com this week. Sadly, the new version of the web/ftp software is acting up and locking up on average about twice a day.

I won't be around to restart it this weekend, but you can check to see if it's online anytime you like!

But, Maybe YOU should get outside while the weather's good also?