At the last minute, the Baltimore Shipmates cancelled their annual run (Keelhaul) -- then, a few weeks later, the Knighthawks MC of Virginia also cancelled their annual run (which would have been their 20th anniversary!) All due to low registration. The Rochester Rams' Run is this weekend and apparently only 25 people registered for this year's run, a run which used to get an average of 100 men.
The recent lack of club event registration can't possibly be attributed merely to joblessness. Times have been changing and traditional club runs aren't appealing to our younger generation (those folks who have their faces constantly buried in their smartphones whilst walking, talking to others or clubbing).
Some dramatical changes need to be made, and quickly -- or these wonderful, real-life social (and very often sexual) events known as "runs" will go the way of the dodo. Time to re-invent the club run guys!
Tomorrow we depart on the motorcycles for The Ranch in Hemlock, NY (MAP POINT C), then Friday we go to the Rams' Run (MAP POINT D), on Sunday we head to Toronto (MAP POINT E) -- here's the ride map:
http://j.mp/2013rams
If you're coming to the Rams' Run or live or will be in Toronto, let me know! We'll be in Toronto until Wednesday morning.
Oh well, 2013 has been a disappointing year in the world of leather/motorcycle clubs.
Current Location:

New York, NY

Current Mood:

apathetic

Current Music:

Collective Soul - 10 Years Later
Bad news: Hours of hot and nasty sitting in a carpark that used to be the I-95. Construction on the I-95 has caused serious travel issues all along the eastern seaboard and is to be AVOIDED at all costs. Secondary, tertiary and even side-roads are ALSO jam-packed due to "smart GPS units" re-routing people off the I-95.
Better news: On Friday, before we left we re-assessed and chose the longer distance path which has less traffic. The I-495 and I-270 were a bit slow (even with use of te HOV lanes!), once we were beyond Clarksburg, MD the roads opened up...
Wrong turns = adventure! As you can see from the adjusted map (
link
), we made two wrong turns, the first as we approached Lancaster, PA. My ODO stated 50 miles, yet US-222 exit was to be at MM47. Did we miss it? Get off, gas up, check GPS. DUH. It was just ahead! The next goof-up was in Reading, PA -- the US-222 was a left turn (which we missed) and had no idea that we missed it, until ~7M later when we saw a "to US-222" sign pointing left before an intersection. It was a cool diversion though! PA-73 was an eerie road with ground fog and some cool twisties!
We got home safe and sound around 11PM.
Good news: We managed to avoid any "real rain" (real rain: getting a wet butt or socks/feet or stay wet the entire trip) -- we really dodged some heavy rains!
No one reads long-winded individual blogs much anymore -- too many letters, too much time.
Perhaps I'll post some more here in time, but until then, my short-attention-spanned friends, please communicate with me (blog-wise) on facebook at
https://www.facebook.com/ChazNYC
Please note: I do not trust facebook, please continue to use the telephone, AFK (IRL) and my gmail account for proper one-on-one communications, as I see facebook as a 90% "output only" tool.
Thanks!
Oh, and don't forget to keep an eye on
Where's Chaz
to see where I'll be going!
The world of blogging, vlogging and such has changed.
Current Location:

New York, NY

Current Mood:

apathetic

Current Music:

Rise Against - Life Less Frightening
As seen on EFF's "EFFector" newsletter:
Google Takes the Dark Path, Censors AdBlock Plus on Android

In a shocking move, Google has recently deleted AdBlock Plus from the Android Play Store. This is hugely disappointing because it demonstrates that Google is willing to censor software and abandon its support for open platforms as soon as there's an ad-related business reason for doing so.
AdBlock Plus is a great utility that blocks banners, pop-ups and video ads - even on Facebook and YouTube and protects your online privacy.
You can bypass Google's censorship and download and install on your Android phone, step-by-step directions are provided on their
website (adblockplus.org)
on how to do this (and it's simple!)
AdBlock Plus is also available for FireFox and installs in a snap. It's amazing to see websites that are normally loaded with ads look clean and neat! Check it out.
Current Location:

New York, NY

Current Mood:

annoyed

Current Music:

Asylum Street Spankers - Whiskey Love Song
I couldn't help but notice
A light that was long gone still burning strong
You were sitting
Your fingers like fuses
Your eyes were cinnamon
You said you stand for every known abuse
That was ever that was ever threatened to anyone but you
And why should I know better by now when I'm old enough not to
While every lie speaks the language of love
It never held the meaning I was thinking of
And i can't decide over right or wrong
I guess sometimes you need a place where you belong
Somewhere sing along was through the wrong my whole day
Little things like this don't matter to me
Others felt that you should stand for every known abuse to hand
And all the things that they could never see
You said you stood for every known abuse
That was ever that was ever promised to anyone like you
Don't you wish you knew better by now when you're old enough not to
When every lie speaks the language of love
It never held the meaning I was thinking of
And I can't decide over right or wrong
You left the feeling that I just do not belong
One drink too many and a joke gone too far
I see your face drive like a stolen car
Its harder to hide when you're itching your eye
Its harder to hide what you really saw
Oh yeah you stand for every known abuse
That I've ever seen my way through
Don't I wish I knew better by now when I think I'm starting to
When every lie speaks the language of love
It never held the meaning I was thinking of
And I lost the line between right or wrong
I just want to find a place where I belong
Why should you know better by now when your old enough not to
I wish I knew better by now when I'm old enough not to...
download the song here
You walked into my house last night
Current Location:

New York, NY

Current Mood:

depressed

Current Music:

Beth Orton - Stolen Car
Since my lay-off at NYSE (many others were let go as well), I've been busy job-hunting in between various short trips to Rochester, Washington DC, New Hampshire, Boston, even quick trips to Hawai'i and Istanbul.
As always, my schedule is online at
http://chazhome.com/WheresChaz
If any of my loyal readers has any clue as to potential careers for me, please drop me a line. I've a wide breadth of commercial I/T skills from UNIX Administration and I/T Project Management to Service Delivery and Transition Management.
I'd prefer a work-from-home with 50%-70% customer-facing travel position, but I am not restricted to that -- whilst at NYSE, I was in my New York office 95% of the time. I would not want to travel daily outside of the range of the New York Subway/New Jersey PATH network.
Hear of anything? Let me know!
Wow - I've been neglecting my blog.
Current Location:

New York, NY

Current Mood:

bouncy

Current Music:

Supreme Beings of Leisure - You're Always The Sun
I've several opportunities for a new career on the horizon, I've interviewed a few times at few places, but you all know how that goes -- you might hear back, you might not. Many positions I've interviewed for in the past few months have the same old story -- they haven't got the funding for the position at this time.
Oh well... I'll keep looking and networking. Perhaps I'll get a little time off to travel once again. It's been over a year since being in the U.K., and I miss my mates there!
Speaking of the U.K., Dave Pike (from Nottingham, England) arrives next Wednesday for a two week stay! We've got another whirl-wind tour planned:
- Arrive in NYC
- Travel to The Ranch in Hemlock, NY and meet up with folks
-
Rochester Rams' Run
- A two-day side-trip to Toronto, Ontario
- Back to NYC for a few days
- Off to Oxford, PA to attend
Centaur M/C's Olympia Run
- Back to NYC for a few days
- Dave departs NYC for England (and will sleep all the way!!)
Phew! Sounds like a fun two weeks, eh?
Sorry I haven't been posting to my blog much lately -- I have been somewhat more active on facebook, but it always feels like a pop-culture ocean of useless facts and diversions; whereas my blog is a bit more dedicated to the important things in my life.
I've been very busy with work, future work interviewing, home life with K.K.,
Empire City M/C
,
New York Bear Den
and weekend trips all over the place!
Check out some of the new photos from recent trips at
http://photos.chazhome.com/
Riding season is rapidly coming to an end, please wish for dry weekends for all my upcoming trips! See you on the road!
In a mere two weeks, my Service Manager job at the New York Stock Exchange comes to an end. :-(
Current Location:

New York, NY

Current Mood:

energetic

Current Music:

Ultrablack - Skull Fucking
My birthday is a few weekends from now -- and this year it falls on a Sunday!
I'm considering a day-trip motorcycle ride to go hiking, but need to consider my options.
Does anyone have any suggestions for my birthday between noon on Friday, July 27th through 5pm on July 29th?
---
In other news, as president, I've been very busy with Empire City M/C this year -- we've already done more this year than the past seven! We had an awesome Motorcycle Weekend, with our annual bike blessing and this year, a trip to Hemlock, NY (The Ranch) for an overnight stay. We were all present at Folsom Street East with our "Biker for a day" photo shoot, and we had nine riders at the Gay March in Manhattan! Two weekends ago, we celebrated Canada Day and Independence Day at The Ranch with a daily motorcycle jaunt to various locations in the fingerlakes!
Photos of all of these events can be seen at
photos.chazhome.com
-- check 'em out, and do consider coming along with us for some of these upcoming events:
- Hillside Campground/NEPA's Motorcycle Weekend
- See DRAM in Deep River, CT
- AMCC Barnight at the D.C. Eagle
- Rochester Rams' Run
- Rams' Run to Toronto, Ontario, Canada!
Current Location:

New York, NY

Current Mood:

loved

Current Music:

The Offspring - Self Esteem
Before everyone goes overboard and says "I told you so", yes -- we did have some rain over the ECMC Biker's Picnic. All in all though, it wasn't
that
bad, considering! We had rain on the return trip home from Dresden, NY to Waverly, NY (60 miles) -- we stopped several times when the rain got hard and took our time -- once beyond Waverly, we were in good shape (except for a mechanical problem on one of our guests' motorcycles which slowed us down to ~50MPH).
The ride up to Hemlock, NY was fantastic (and dry!) -- riding up NY-97 was picturesque! Lunch in Hancock was great -- we were the stars of the day as they waited on us hand and foot! We arrived in Hemlock on time to see K.K. and crew preparing dinner and h'orderves for us all -- and we were all ready for a cocktail!
We were served a dinner of steak, chicken and a vegan dish for one of our guests which rivaled some of the best restaurants in New York City! We played billiards, had cocktails, did some well-deserved hot-tubbing and from the rumours I heard, Heaven (the playroom in the barn) was busy until very, very late!
Breakfast was served like never before at the ranch -- breakfast burritos with eggs, steak, chicken and cheese covered with an enchilada sauce! Yum! Again, K.K. and Tony's meal planning really paid off for the group!
We began our return home around 11:30, but due to the ominous sky -- a few of our guests opted to go their own way and try to race the clouds home. You know the rest -- about 60 miles of rain, several delays awaiting the rain to pass, then clear and dry all the way home...
---
When I was laid off from IBM in 2008 and returned my IBM Thinkpad, I felt as if half of my brain was removed -- whilst working at IBM, I started becoming more dependent upon portable computing -- my laptop completed my life, providing communications, scheduling, music, photos and more. The same day I learned of my lay-off, I went to eBay to search for a replacement Thinkpad. I found a T61 (which would work with all of the adapters and devices I personally purchased) and be a replacement for my IBM laptop. That T61 has been my primary computing device since 2008, and although my suite of software and the data contained upon it might have altered a bit since then, it's been a trusted device.
One tends to accumulate things as they age, this fact true is even more so with a computer! I started to notice that my original HDD was getting close to the full-up mark about six months ago. Even after deleting things I felt were not essential, I was having issues keeping the drive from becoming 100% full.
I purchased a new 2.5" SATA 750GB (3/4TB) hard drive to replace the original 144GB HDD. The new drive arrived last week. I am now happy to report after several failed attempts, as of this morning, I have successfully cloned the old drive to the new drive and expanded the primary partition -- injecting additional life into my four-year-old laptop! It was an exciting moment when I booted it up and everything worked!
I'm so proud of myself for accomplishing this task on my own!
Current Location:

New York, NY

Current Mood:

chipper

Current Music:

Dead or Alive - You Spin Me Right Round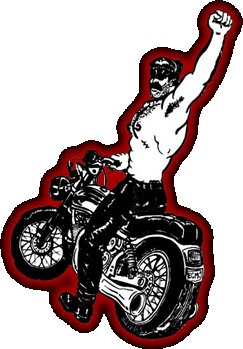 Today is the start of Empire City M/C's 2012 Biker Weekend!
Empire City M/C hosts our annual bike blessing tonight at 7pm at Ty's Bar in Greenwich Village. Everybody is welcome to attend and (if they have a motorcycle) get their bike blessed! It's quite a sight to see all those bikes on Christopher Street!
Saturday and Sunday will be our annual biker's picnic -- and this year is a return to the weekend-long format! It kicks off Saturday morning with breakfast in New York City at a classic diner/luncheonette. We'll depart from breakfast at 9AM, riding up some beautiful roads, meeting up with more bikers at our first gasoline stop in New Jersey. Then, it's onward to a free biker lunch at "Honest Eddie Murphy's Tap Room" in Hancock, NY. We'll continue our ride, arriving at "The Ranch" around dinnertime for our annual free biker's BBQ (a steak & chicken dinner). We'll party at The Ranch and spend the night. On Sunday morning, ECMC will make our guests breakfast and take them home through some wonderful twisties in the finger lakes region with a fantastic photo op in Watkins Glen, NY!
We've got 27 bikers involved with the weekend-long motorcycle trip!
Although the bike christening/blessing is open to all, the Saturday/Sunday trip is for males only and no four-wheeled vehicles are allowed! As always, it is a motorcycle-only trip!
Once again, I find myself posting less and less personal content to the internet (blogging, facebook, Google+, twitter, etc.) -- This isn't a good nor a bad thing, it's just a thing. Once upon a time, it was cool and hip. Blogging was rare. Now everyone does it, like it or not, so it's lost it's uniqueness. Only a handful of people could be considered even remotely "successful" in the blog-o-spehere, for example: "Joe. My. God." -- even so, I find I'm reading them less and less.
Current Location:

New York, NY

Current Mood:

excited

Current Music:

Steppenwolf - Born To Be Wild